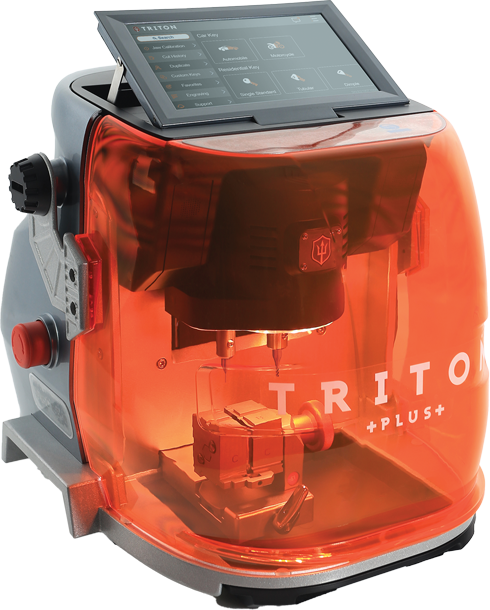 Now with the industry's best warranty, the Triton PLUS is covered for 3 years for registered users, supported by the Las Vegas based Lock Labs Warranty & Repair Center. 
Register at: https://www.lock-labs.com/extra/
Please contact Triton tech support at 888-816-1046 to verify issues before sending in your machine, as we may be able to resolve the issue over the phone.
For more information about this product, contact your preferred distributor or visit: https://tritonkeymachine.com/
Screen
Touch screen is non-responsive.
Touch panel is coming loose.
Screen does not display, or does not display correctly.
**Screen is physically damaged.
Drive Motors/Axes
Grinding or rubbing noise during axis movement.
No movement, jerking or stalling during axis movement.
Cuts keys poorly or inconsistently even after updating and re-calibrating machine (may be caused by other issues).
Main Drive/Probe Fixture
Does not trace keys correctly (may be caused by other issues).
Repeatedly breaks probes and/or cutters (Cutters and probes can be broken by decoding or cutting dirty or non conductive keys. Please take proper steps clean and verify your keys to prevent breakages).
Cutter does not spin / cutter speed is inconsistent / cutter spins backwards (may be caused by other issues).
Motherboard
Machine will not calibrate (may be caused by other issues).
Machine repeatedly gives "sensor exception" errors (may be caused by other issues).
Machine will not boot up.
Machine boots up, but then freezes.
Control Board
Machine will not calibrate (may be other issues).
Machine repeatedly gives "sensor exception" errors (may be caused by other issues).
Cutter speed is inconsistent / cutter spins backwards (may be caused by other issues).
Movement of machine is inconsistent (keys cut inconsistently, sometimes will calibrate, sometimes will not).
Software*
Machine is cutting keys too shallow / too deep.
Machine has correct cut specs for keyway, but will not decode or cut it properly (may be caused by other issues).
Triton Key Machine software freezes/crashes/non-responsive.
*Issues may be resolved without requiring you to send your machine in. Call us at 888-816-1046.
**Physical damage is not covered under warranty.
Purchase a screen protector.
Avoid leaving your device's screen exposed to direct sunlight.
When mounting in a vehicle, make sure machine is firmly and securely mounted. We recommending using the official Triton mounting kit. If mounting on your own, DO NOT use longer screws through rear foot mounts of machine. Longer screws there risk damaging internal components, which will be considered physical damage and will not be covered under warranty.
DO NOT use compressed air to remove shavings or clean machine. Compressed air may blow shavings inside the machine, where they could end up shorting out internal components. Vacuum use is ok.
Regularly clean machine and accessories of shavings. Brush off any shavings buildup around the probe and cutter head especially. Also empty the shavings tray regularly.
Do not use during thunderstorms without surge protection. Also if connected to an inverter, make sure the inverter is grounded properly and all grounding points are in good condition. Inverter recommendations: 10 amp fuse, min. 1000w pure sine wave inverter.
Avoid any temptations of self-repairing to prevent further damages (if any).
Avoid storing your device in extreme conditions (extreme heat/cold).
Only download software from official and trusted sites.
Calibrate machine after every update or ideally once a week.
Do not forcefully lift/press on screen.
Keep your device away from any area/objects where liquid spillage may occur.
Warranty
Triton Key Machine Warranty Information
LIMITED MANUFACTURER'S WARRANTY
Lock Labs warrants the Triton key cutting machine in compliance with this certificate, in effect for 24 months from the date of purchase. In order to redeem the benefits provided to you by this warranty, this documentation must be provided in tandem with a verifiable proof of purchase, as issued by an authorized Triton distributor. This warranty covers the free repair or replacement of any parts deemed faulty as a result of imperfect manufacturing.
This warranty does NOT cover:
(1) Damage or malfunctions caused by natural disasters or acts of God (lightning, fire, flood, earthquakes and other external causes)
(2) Theft, misplacement, reckless, abusive, willful or intentional conduct associated with handling and use of the Triton
(3) Faulty installation, repair, or maintenance by anyone other than a Lock Labs authorized service provider
(4) Damage to or failure of unauthorized aftermarket upgrades or add-on accessories (This includes the electrical failure of the machine due to the usage of inferior or inefficient power inverters)
(5) Consumer replaceable or consumable items, including but not limited to: cutting bits, tracers (decoders), T-wrenches (Allen wrenches), Allen-slotted threaded bolts, tip stop/calibration block, debris brush, and AC power adapter
(6) Extreme environmental conditions (including extreme temperature or humidity) leading to problems such as external condensation, overheating and mold
(7) Usage outside of the permitted or intended uses, as described by the manufacturer
(8) Malfunctions caused by improper operation by the machine operator
(9) Damage caused by insect infestation or rodents
(10) Covered products that have been reported as lost or stolen
(11) Any machine whose serial number has been altered, defaced or removed
(12) Any machine whose software has been modified or altered beyond the normal scope of use
(13) Damage that is secondary, or any damage that would be ordinarily covered under a primary insurance policy (e.g., car accident causes damage to the Triton)
(14) Protection against any other act or result not covered by this plan
(15) Any resultant damage to the Triton that arises from one or more conditions described above
Except for the above cases, all qualifying malfunctions are eligible for free service within the warranty period. To assure your request for service is handled efficiently, please contact Lock Labs customer service prior to sending us any product. We will issue you a Return Authorization Form that must be included when shipping your product to us. Failure to do so will result in service delays.
How to Obtain Service and Support You may obtain service by accessing our website, tritonkeymachine.com/support, or by calling us at 888-816-1046. Regular business hours are Monday through Friday from 8 am to 5 pm Pacific Standard Time.
THE LIMITED MANUFACTURER'S WARRANTY IS EXPRESSLY GIVEN AND ACCEPTED IN LIEU OF ALL OTHER WARRANTIES, EXPRESS OR IMPLIED, INCLUDING, WITHOUT LIMITATION, ANY WARRANTY OF MERCHANTABILITY OR FITNESS FOR A PARTICULAR PURPOSE. TO THE EXTENT THAT THEY CANNOT BE DISCLAIMED, THE IMPLIED WARRANTIES ARE LIMITED IN DURATION TO THE LIFE OF THE EXPRESS WARRANTY. LOCK LABS SHALL HAVE NO LIABILITY FOR INCIDENTAL AND CONSEQUENTIAL DAMAGES THAT ARISE FROM THE SALE OF TRITON PRODUCTS OR ARE A RESULT OF A BREACH OF THE LIMITED MANUFACTURER'S WARRANTY REPRODUCED ABOVE. THE REMEDIES SET FORTH IN THE LIMITED MANUFACTURER'S WARRANTY ARE THE PURCHASER'S SOLE AND EXCLUSIVE REMEDIES AND THE ENTIRE LIABILITY OF LOCK LABS FOR ANY BREACH OF THE LIMITED MANUFACTURER'S WARRANTY. SOME STATES/JURISDICTIONS DO NOT ALLOW FOR THE DISCLAIMERS, LIMITATIONS, AND EXCLUSIONS DESCRIBED ABOVE, AND AS A RESULT, THEY MAY NOT APPLY TO YOU. THIS WARRANTY GIVES YOU SPECIFIC RIGHTS, AND YOU MAY ALSO HAVE OTHER LEGAL RIGHTS WHICH MAY VARY FROM STATE TO STATE OR FROM ONE JURISDICTION TO ANOTHER. NO DISTRIBUTOR, DEALER, SALES REPRESENTATIVE NOR ANY OTHER PERSON HAS BEEN AUTHORIZED TO MAKE ANY AFFIRMATION, REPRESENTATION OR WARRANTY REGARDING THE PRODUCT, OTHER THAN THOSE CONTAINED IN THIS LIMITED MANUFACTURER'S WARRANTY, AND IF MADE, SHALL NOT BE ENFORCEABLE AGAINST LOCK LABS. LOCK LABS RESERVES THE RIGHT TO MODIFY THESE TERMS AND CONDITIONS AT ANY TIME, IT BEING UNDERSTOOD THAT SUCH MODIFICATION WILL NOT ALTER THE LIMITED MANUFACTURER'S WARRANTY CONDITIONS APPLICABLE TO THE PRODUCTS SOLD WHILE THESE TERMS AND CONDITIONS ARE IN EFFECT.