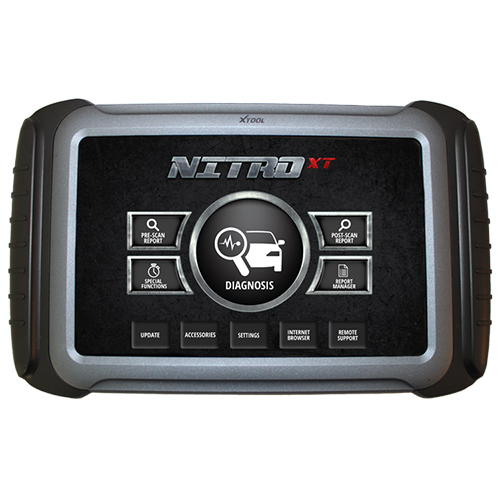 For NITRO XT owners, having a reliable repair service you can count on provides piece of mind. If your NITRO XT needs anything from a screen repair to a battery replacement, Lock Labs Warranty & Repair Center has the parts, tools, and experience necessary to get the job done right.
Please contact tech support at (888) 988-6865 to verify diagnostic issues before sending your machine in as the problem may be caused by the vehicle being diagnosed.
For more information about this product, contact your preferred distributor or visit: https://nitroscantool.com/
Purchase a screen protector.
Avoid leaving your device's screen exposed to direct sunlight.
When using third-party accessories, do not over-tighten/forcefully insert into device to prevent non-warranty damage.
Hold the device using the strap provided (if applicable).
Avoid leaving your device in situations where foreign objects may fall on it.
Store your device securely while in transit.
Do not charge during thunderstorms without surge protectors.
Keep your device away from any area/objects where liquid spillage may occur.
Avoid any temptations of self-repairing to prevent further damages (if any).
Avoid storing your device in extreme conditions (extreme heat/cold).
Do not leave your device unattended in public areas.
Avoid visiting malicious websites to protect your device's software.
Warranty
NitroScanTool Warranty Information
LIMITED MANUFACTURER'S WARRANTY
XtoolUSA® warrants the Nitro Scan Tools™ in compliance with this certificate, in effect for 12 months from the date of purchase. In order to redeem the benefits provided to you by this warranty, this documentation must be provided in tandem with a verifiable proof of purchase, as issued by an authorized Nitro Scan Tool™ distributor. This warranty covers the free repair or replacement of any parts deemed faulty as a result of manufacturing defects. (For the most current version of this agreement, please visit Nitroscantool.com/warranty).
This warranty does not cover:
(1) Damage or malfunctions caused by natural disasters or acts of God (lightning, fire, flood, earthquakes and other external causes)
(2) Theft, misplacement, reckless, abusive, willful or intentional conduct associated with handling and use of the Nitro Scan Tool™
(3) Faulty installation, repair, or maintenance by anyone other than a Nitro Scan Tool™ authorized service provider
(4) Damage to or failure of unauthorized aftermarket upgrades or add-on accessories.
(5) Consumer replaceable or consumable items, including but not limited to: cords, adapters and AC power adapter.
(6) Extreme environmental conditions (including extreme temperature or humidity) leading to problems such as external condensation, overheating and mold
(7) Usage outside of the permitted or intended uses, as described by the manufacturer
(8) Malfunctions caused by improper operation by machine operator
(9) Damage caused by insect infestation or rodents
(10) Any machine whose serial number has been altered, defaced or removed
(11) Any machine whose software has been modified or altered beyond the normal scope of use
(12) Damage that is secondary, or any damage that would be ordinarily covered under a primary insurance policy (e.g., car accident causes damage to the Nitro Scan Tool™)
(13) Protection against any other act or result not covered by this plan
(14) Any resultant damage to the Nitro Scan Tool™ that arises from one or more conditions described above
Except for the above cases, all qualifying malfunctions are eligible for free service within the warranty period. To assure your request for service is handled efficiently, please contact XtoolUSA® customer service prior to sending us any product. We will issue you a Repair Authorization Form that must be included when shipping your product to us. Failure to do so will result in service delays.
Shipping and Handling Policy: XtoolUSA® will contribute to the cost of shipping to and from our repair center, at our discretion, and only within the Continental United States. After a preliminary assessment, if your machine malfunction is determined as uncoverable by this warranty, the entirety of all shipping costs will become your obligation. Failure to rectify any outstanding shipping or repair charges will result in return shipping delays.
How to Obtain Service and Support You may obtain service by accessing our website, www.nitroscantool.com/support or by calling us at 888-988-6865. Regular business hours are Monday through Friday 8am to 5pm Pacific Standard Time.
To receive service or support, you agree to comply with each of the terms listed below:
(i) You will provide a copy of this warranty and a copy of your purchase, exchange and service receipts, if requested
(ii) You will provide, to the best of your ability, information about the symptoms and causes of your issues with the Nitro Scan Tool™
(iii) You will respond to requests for information, including but not limited to: your product serial number, version of the software installed, any peripheral devices connected or installed on the Nitro Scan Tool™ , any error messages displayed, the actions which were taken before the Nitro Scan Tool™ experienced the issue and the steps taken to attempt resolution of the issue
(iv) You will follow instructions we give you, including but not limited to refraining from sending us products and accessories that are not subject to repair or replacement service (as listed above) and packing the Nitro Scan Tool™ in accordance with the shipping instructions we will provide to you upon service agreement
(v) Keep your original packaging! In the event your machine must be shipped to our repair facility, there is no safer method to ensure that the machine will arrive intact and undamaged, than if it ships in its original box. Damages incurred during shipping, due to improper packaging, will be the customer's sole responsibility
(vi) You will be required to sign a service order disclaimer or other service order terms to obtain repairs or a replacement device. This service order disclaimer or other service order terms do not form a part of this warranty, and are a separate legal document (vii) After securing permission to send in your machine, please insert your completed Repair Authorization Form inside the box and ship to: XtoolUSA Warranty and Repair Center – 5275 S Arville St Ste 328, Las Vegas, NV 89118
THE LIMITED MANUFACTURER'S WARRANTY IS EXPRESSLY GIVEN AND ACCEPTED IN LIEU OF ALL OTHER WARRANTIES, EXPRESS OR IMPLIED, INCLUDING, WITHOUT LIMITATION, ANY WARRANTY OF MERCHANTABILITY OR FITNESS FOR A PARTICULAR PURPOSE. TO THE EXTENT THAT THEY CANNOT BE DISCLAIMED, THE IMPLIED WARRANTIES ARE LIMITED IN DURATION TO THE LIFE OF THE EXPRESS WARRANTY. XTOOLUSA® SHALL HAVE NO LIABILITY FOR INCIDENTAL AND CONSEQUENTIAL DAMAGES THAT ARISE FROM THE SALE OF TRITON KEY CUTTING MACHINE™ PRODUCTS OR ARE A RESULT OF A BREACH OF THE LIMITED MANUFACTURER'S WARRANTY REPRODUCED ABOVE. THE REMEDIES SET FORTH IN THE LIMITED MANUFACTURER'S WARRANTY ARE THE PURCHASER'S SOLE AND EXCLUSIVE REMEDIES AND THE ENTIRE LIABILITY OF XTOOLUSA® FOR ANY BREACH OF THE LIMITED MANUFACTURER'S WARRANTY. SOME STATES/ JURISDICTIONS DO NOT ALLOW FOR THE DISCLAIMERS, LIMITATIONS, AND EXCLUSIONS DESCRIBED ABOVE, AND AS A RESULT, THEY MAY NOT APPLY TO YOU. THIS WARRANTY GIVES YOU SPECIFIC RIGHTS, AND YOU MAY ALSO HAVE OTHER LEGAL RIGHTS WHICH MAY VARY FROM STATE TO STATE OR FROM ONE JURISDICTION TO ANOTHER. NO DISTRIBUTOR, DEALER, SALES REPRESENTATIVE NOR ANY OTHER PERSON HAS BEEN AUTHORIZED TO MAKE ANY AFFIRMATION, REPRESENTATION OR WARRANTY REGARDING THE PRODUCT, OTHER THAN THOSE CONTAINED IN THIS LIMITED MANUFACTURER'S WARRANTY, AND IF MADE, SHALL NOT BE ENFORCEABLE AGAINST XTOOLUSA®. XTOOLUSA® RESERVES THE RIGHT TO MODIFY THESE TERMS AND CONDITIONS AT ANY TIME, IT BEING UNDERSTOOD THAT SUCH MODIFICATION WILL NOT ALTER THE LIMITED MANUFACTURER'S WARRANTY CONDITIONS APPLICABLE TO THE PRODUCTS SOLD WHILE THESE TERMS AND CONDITIONS ARE IN EFFECT.